This website is created and managed by the former employees of Pacific Western Airlines. The target audience is that membership. If you have any contributions or comments, please submit them to the Webmaster. We also wish to say thanks to our many generous contributors.

While you are visiting, you may want to play the Pacific Western Airlines Song
It appears there were only 2 DC-7C's and that narrows the registrations to CF-NAI or CF-PWM. We have a name from for the B707 crew member as Captain Reg Scott. If you have further details on Captain Scott or this Transatlantic service, please pass them on to the webmaster
Curtiss C-46 sent by AJH "Joe" Collinson


---
Oct 24, 2013 Info on the Bellanca Senior Skyrocket
Greetings - We need your reader's assistance relative to an article I am researching for the Museum's newsletter. I am interested in an airplane that was manufactured by Northwest Industries in Edmonton between 1945 and 1949. The plane in question is the Bellanca Senior Skyrocket. Only 20 of these airplanes were ever built – 7 by the parent company in the U.S. and 13 by Northwest Industries under licence.
For the article, I am trying to identify the 13 planes that were produced and what happened to them. I recently came across some information on the internet that showed two Senior Skyrockets flying for PWA circa 1950. The two planes were CF-EQQ and CF-EQR. The internet information noted these planes were Model 31-55B's while Northwest Industries aircraft were commonly designated Model 31-55A's (I'm not sure why the discrepancy exists).
I was wondering if any of your members might be able to tell me more about CF-EQQ and CF-EQR – their origins, their use by PWA and their ultimate fate. If your members know about any other Senior Skyrockets and what happened to them that would also be of interest (for example, CF-DCE flew for Superior Airways of Ft. William, Ontario and CF-DCH is on display at the Reynolds Alberta Museum – I believe it is the last example still in existence).
Again, any help you or your members could provide would be greatly appreciated. Any responses can be directed to my e-mail:
Thanks and best wishes,
Neil Taylor
Newsletter Editor
Alberta Aviation Museum
Click this link and another link to find both of these aircraft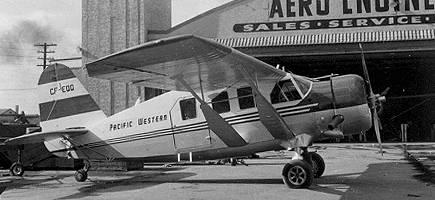 Update - CF-EQR was originally purchased by Associated Airways in 1949 and then became part of PWA in 1957 when PWA took over Associated. PWA then sold it to Basco Aircraft Supplies of Edmonton in 1959 and it was crashed in 1961 by an individual leasing it from Basco.

CF-EQQ also came from Associated Airways to PWA then was sold to the Clark family in Meadow Lake, Sask. in 1958.
---
Oct 4, 2013 - AC 745
We have been in contact with Capt Terry Champion (ret) - Edmonton Aviation Museum
The changes at the Edmonton Muni downtown airport may necessitate that our B737 be flown to Villeneuve in November this year. The aircraft is in near flying condition and work is being advanced by members and Canadian North. Keep posted for new developments.

To All Former PWA Employees and Families



As you may have heard, the City intends to close the last runway November 30th and immediately tear up the runways, taxiways, etc. And the City refuses to let us expand our boundaries as we thought they would. As a result, there is insufficient room for the Museum to keep the PWA 737, so it is important to fly it out sometime in November. At the moment it looks like, with considerable assistance from Canadian North, the aircraft will be flown to Villeneuve Additionally, restrictions to our operations, imposed
by the City, could see the Restoration Dept., the Cadets, and most of the other organizations in the hangar forced out, making it very difficult for the Museum to operate in a solvent manner.
It is time to let the public know what effect the Cities actions will have on us, so a public awareness event is planned for Saturday, October 12th from 11:00 to 2:00 PM. There will be a fly-in of light aircraft and the 737 will be opened to the public. This will be the last time the public will have access to #745 for a long time, perhaps forever. So all members of the PWA family are invited to join us next Saturday. Group photos will be taken from about 2:00 to 2:30 (bring your cameras!) Lets have a good turnout and let the City know what we think of their plans. If you wore a uniform, and it still fits, please wear it. If you are not a Museum member, admission is free for this event, but please bring some I.D. or something to identify yourselves at the admission desk. Pass the word around to those who do not have e-mail.
See you on the 12th!
Terry Champion (Capt Retired)
---
Sep 20, 2013 PM Honours Pilot Heroics
Our Capt G. Moul was recognized for his role in the flight to freedom in Uganda in 1972. Amazing story and thanks C N R Beck. Read the article here.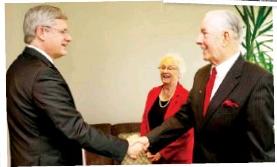 ---
Sep 4, 2013 - Russ Baker Book
Found this picture in a book "Bush Flying to Blind Flying" British Columbia's Aviation Pioneers 1930-1940 - written by Peter
Corley-Smith. Picture was on page 164 with the caption of: "Russ Baker with one of the aircraft, a Junkers W-34, of his recently formed Central B.C. Airways, circa 1947. - Dennis Kennedy


---
Sep 10, 2013 New Aircraft Pictures
---
Aug 12, 2013 Don Watson Tribute
A video tribute to Don Watson.
---
July 22, 2013 - AC752 Retires from Canadian North
Pacific Western began B737 combi operations with AC732, followed by AC742 then AC752 and so on. That sequence was altered with AC783 then AC784 which came from Dome Petroleum.
We received news that AC752 retired from service at Canadian North. Quote - Last flight in commercial operations 14 July 2013 for 752 (flight 445 YZF – YEG) B737-275C - S/N 21294 - Line 481 delivered new to PWA Dec 1976. 81,196.1 hours and 77,008 cycles. Probably one more flight to YRQ where it will be parted out.
---
July 21, 2013
Flight Global did a large section of reference material on Pacific Western Airlines. Their link is below. Numerous references are made to our website.
http://www.flightglobal.com/airspace/blogs/flyvertosset/archive/2012/09/23/about-pacific-western-airlines.aspx
---
May 31, 2013 New Aircraft Photos uploaded here - thanks to our contributors
---
March 22, 2013 Air Transport News Awards
Regional Aircraft Manufacturer of the Year: Bombardier
Aircraft Manufacturer of the Year: Airbus
Engine Manufacturer of the Year: Rolls-Royce
Ground Handler of the Year: Çelebi Holding
IT Company of the Year: SITA
MRO Company of the Year: Lufthansa Technik
Airline Alliance of the Year: Star Alliance
Airport of the Year under 10 Million Passengers: Rajiv Gandhi International Airport
Airport of the Year 10-30 Million Passengers: Genève Aéroport
Airport of the Year: Istanbul Ataturk Airport
Cargo Airline of the Year: FedEx
Regional Airline of the Year: SilkAir
Low Cost Airline of the Year: AirAsia
Airline of the Year: Turkish Airlines
George Iatrou Lifetime Achievement Award: Professor Tae Oum, President, ATRS
Woman of the Year: Angela Gittens, Director General, ACI
Leader of the Year: Raymond Benjamin, Secretary General, ICAO
---
March 22, 2013 - Stampeder Uniform
This month, the Aviation Museums in both Ottawa and Edmonton, went on a search for missing components of their display 1970's era Stampeders Flight Attendant Uniform. We are pleased to say all of the items have been located but with the help of Terry Champion, A Bidlock, M Garbencius, G Bradley, E Potts and R. Bertram. Thanks to all.

---
March 17, 2013 NEEDED: White cowboy boots from a Stampeder uniform.
About 1971 the Company issued Stampeder uniforms to some or all of the Edmonton based stews (as we used to call them). The outfit consisted of a blue cowboy hat, white blouse, blue jacket, very short white skirt, red bloomers, and white cowboy boots. The outfit was discontinued fairly soon, apparently due to the way it attracted unwanted advances from male passengers whose inhibitions had been suppressed by consuming too many beverages. The "girls" didn't like the attempts to pull down their bloomers. I heard that at least one passenger received a knuckle sandwich in return.

The Alberta Aviation Museum, in the big white hangar on Kingsway at XD, the downtown airport, has a lot of PWA in its collection and displays, including the 737 #745. Mary Ann Garbencius has donated her Stampeder uniform for an upcoming display with the theme "Women in Aviation." She had retained everything except the boots and has contacted many F/As hoping to find some boots, but to no avail so far. If you still have the booklet issued after the wonderful 2002 reunion in Calgary you will see on page 9 a "stew" wearing her outfit. Can anyone tell me who she is? Can anyone help us find some boots? The Museum is very interesting and has input from many PWA volunteers. The Curator is interested in PWA and would like to add to our PWA archives. Please contact me if you have an item(s) you would like to donate and I will discuss it with the Curator. You would really enjoy a visit, but if you are coming within the next couple of weeks snowshoes are recommended.
Capt Terry Champion Retired


---
March 7 - From the Canadian Aviation and Space Museum

As assistant curator at the Canada Aviation and Space Museum, I am responsible for the Museum's collection of airline uniforms, which includes many from PWA. I am working on an article about PWA's late 1960s flight attendants' uniforms, particularly those worn on the Stampeder service, and am interested in speaking with people who worked for PWA in the late 1960s and early 1970s. If you would like to share your memories of the late 1960s uniforms, and of the Stampeder service in general, please contact me
If you have uniforms you would like to donate, please send a note and description and I will see if it fits in with our programme.
Best regards, Molly McCullough
Assistant Curator - Transport, Aviation
Conservatrice adjointe - Transports, aviation
Canada Aviation and Space Museum
Musée de l'aviation et l'espace du Canada
613-991-3084
---
March 7 - From the Alberta Aviation Museum Edmonton (Article on the A/C 745 Story)
Here's the final version (PDF) of the In Formation newsletter for March/April 2013 that has the article on the Alberta Aviation Museum's 737, C-GIPW. Thanks again to you and your members for some of the photos and background information on this aircraft.
Neil Taylor Newsletter Editor, Alberta Aviation Museum
---
Feb 22, 2013 from L. Hrelia (Stronach)
Hi. I was browsing the internet and found this wonderful Pacific Western Airlines website. My dad, David Stronach, was a HERC pilot for PWA for many years. Unfortunately he passed away in a plane crash on November 21, 1976 in Africa (Lumbumbashi). I have attached three photos of my dad (2 of the photos are when he was a pilot with BC Airlines). If anyone has any stories about my dad, I would appreciate you e-mailing me. He was a wonderful man! Thank you. Linda (Stronach) Hrelia (email)

---
Feb 8, 2013 - Alberta Aviation Museum
Greetings,
While not a PWA alumnus, I am interested in the history of one of the 737-275's that flew for PWA and later Air Canada – C-GIPW. I am the newsletter editor for the Alberta Aviation Museum, the current home of C-GIPW, and I am working on an article about this airplane for inclusion in our newsletter.
I'm hoping that some of your readers might be able to provide me with background, stories or photos about C-GIPW, such as where it flew and when, and whether there were any notable incidents involving this aircraft. Personnel crew experiences would be great.
I do know that C-GIPW was built in 1979, its serial no. is 21712 and that its Certificate of Airworthiness was dated March 1, 1979. It later flew in service for Air Canada upon PWA's amalgamation with that carrier. On June 17, 2005 it was delivered to the Alberta Aviation Museum.
Any information or anecdotes that your readers could pass along for possible inclusion in the article would be greatly appreciated. I look forward to hearing from them.
Neil Taylor
Newsletter Editor
Alberta Aviation Museum
Any info you may have, please pass it along. Some topics might be - what paint scheme was 745 delivered in and did it ever carry its current livery. How may more B737 did PWA take delivery of after 745. Was there anything special with the engine specifications - EOW or GTOW that made it different or anything in particular you may recall. Please email Neil here Thanks from the Webmaster.

---
Feb 7, 2013 -THE ARCTIC HERC RATS,
Just to let you know of a PWA project which has started. Colm Egan and myself, Gordon Wilson, are writing a book called THE ARCTIC HERC RATS, PACIFIC WESTERN AIRLINES, THE WORLD WAS THEIR LANDING STRIP to be published in 2014 by Amberley Publishing of Stroud, England. We are both former PWA employees and want to preserve this part of Canadian aviation history. We will be seeking information on the Hercules operation shortly when we establish a communication website. Read the prologue here. Regards, Gordon
---
Update on Quicket - we have the original document promo for this product. Read the story in Traces.

---
Nov 2012 - Lifetime Achievement Award for Alumni
Read the article here. Congratulations Lynne.
---
Oct 2012 - Keeping Posted from January 1970
I am attaching 3 photo's of the crew from a scan from Pacific Western Airlines Keeping Posted 1970 January Edition and the AMA round the world Charter. Isle passed away in Edmonton this month - Garth Caron.
The Crew:
Captain Art Bell
First Officer Alex McTavish
Engineer Moe Sangster
Navigator Cliff Beck
Purser Gil Tsui
Purser Ole Damsgaard
FIt. Attendants:
Isle Buffi
Corry Van Vliet
Dianne Paradee
---
Oct 11, 2012 - From Kory Down
Hi, my name is Kory Down – I worked as Jack Moul's secretary in Contract and Charter for 4 years 1968 – 1972. I actually started with the Law Department – I believe his name was Wilson. But your picture of Val Hennell reminded me that he and Brian Bourne were lost in a DC-3 south of Port Hardy. There were others lost – Edmonton and Africa – all working charter flights. And all very nice men. I also worked with Rhys Eyton who later took over managing the airline. And I remember Don Watson and his daughter Sharon. Too many wonderful memories. Probably long before your time, but all part of a wonderful history that I am proud to have been part of. Kory
---
Oct 11, 2012 - From Germany
Hi there - I was a Flight Attendant based in YXD over period from 1969 to 1975. People would know me as Paquita Lamacraft (Kellaway) and I am currently a Senior Business Consultant at Hewlett Packard, Germany. Great site…lots of memories. I would like to reconnnect with some of my former colleagues. I include some pics of my new travelling companion Balu the 4 month old Chow Chow in front of a Porsche from the Porsche Museum (he had just been greeted Dr Wolfgang Porsche himself). This was just taken on my birthday last week in Zell am See in Austria. The other was taken in Dresden last year. Please let me know if there is another reunion.
Cheers Paquita Lamacraft



---
Sep 13, 2012 - Peter Lougheed
With the passing of the RH Peter Lougheed, we the alumni of Pacific Western Airlines must pause to reflect on Mr Lougheed and the Alberta Government and their role in our history. I remember it well. One concern was how involved they would be in the management of the business, but they stayed at arms length and we moved forward with the growth that the '70's brought. Mr Lougheed and the cabinet ministers travelled frequently on the Airbus. Some requested forward seats to assist them with their schedules. At the time we operated over 14 B737 in each direction between Calgary and Edmonton. The cost savings to the government coffers for using commercial carrier service over their private charters must have been significant. PWA was endowed with many acronyms some nicer that others but the best one was - Peter's White Airplanes. I think many of us thought of Mr. Lougheed as a staff member and should truly be remembered as one of us. Thank you Peter Lougheed!
Here is a biography from CTV News
---
July 1, 2012 From B. Nadeau with D. Watson
I attended the Canadian Aviation Hall of Fame induction Dinner in Montreal last week. During the evening I had the occasion to chat and have a photo with Don and Gisella Watson. During the event, Don was named Chairman Emeritus of the Hall of Fame. Great,memorable evening. Sadly Mr. Watson passed in June 2013


---
May 2, 2012 - From SEA Operations
I am a former airline employee (Braniff). I was transferred to Seattle in 1973, to handle Pacific Western Airlines Flights at SEA. You folks were a great airline! Best people in the industry I ever met. I left Braniff, after being "bit by the flying bug". Went back to University and US Air Force Reserve Officers Training Corps (ROTC). The USAF began a massive drawdown after the Vietnam war, and I was told "no active duty, no flight training! and I was told, after making some announcements on a PA system, I had what it took to become a newscaster. I have been in the business in the US ever since. Have also logged a lot of flight time in everything from Pipers/Cessna's and F16s etc: Retired from US Air Force Auxiliary as officer/public affairs.
Have a great day Dennis Crowley
Dennis worked with Lew Stannard CSM SEA where he handled flights of Convairs, Electra, and once in a while a B737 or B707.
---
The DC7 - International Operations - Joe Kapeller.
In response to the DC7B Video submitted by Cliff Beck, I would like to add a little history for the web pages.
PWA started overseas operations in 1964 with DC6B's and DC7's. This endeavour was lead by Captain Henry Schindler. Later that year, management, when considering how best to retain their market share, decided to obtain 2 DC7C's for the 1965 program.
PWA operated the 2 DC7C's on overseas charter flights from 1965 to 1968
** CF-PWM, EX KLM (Designated Seven Seas**) -
** CF-NAI, EX NWA
** Capacity
** 102 PAX + 4 F/A's, and up to 5 cockpit crew.
** MTOW 143.000 lbs
** MAX FUEL 45,770 lbs.
** Max Landing Weight 110,000 lbs.




** this aircraft was an improved long-range variant with a non-stop transatlantic capability, improved 3400hp (2540kW) R-3350 engines and increased fuel capacity mainly in longer wings, 121 built. - from Wikipedia
---
March 12, 2012 - Stu Russell sends us
The last commercial flight of the Hercules.

---
March 12, 2012 - 1963 and 1970 Executive Org Chart (from J. Kapeller)



---
March 12, 2012
Here is a check ride on a DC-7 - very interesting (from C. Beck). The Good Ol' Days ... http://marcbrecy.perso.neuf.fr/DC7.html
---
Feb 18, 2012 Some New Aircraft
(from DD - thx)
---
---
See the Archives Page for older articles