---
A Website Dedicated to the People and History of Pacific Western Airlines
This website is created, funded and managed by the former employees of Pacific Western Airlines. The target audience is that membership. If you have any contributions or comments, please submit them to the Webmaster. We wish to say thanks to our many generous contributors, supporters and readers. We are also on Facebook This very dynamic group has many involved and interactive members.

While you are visiting, you may want to play the Pacific Western Airlines Song
---
July 15, 2019 50 Years ago - BC Airlines- 1969
B.C. Air Lines, a division of C.A.E. Industries was the largest airline operating entirely within B.C. Its marketing zone was: "Pacific Thunderbird" -- and added routes of -- "Okanagan Thunderbird" – Vancouver, Penticton, Kelowna, Kamloops; "Kootenay Thunderbird" – Vancouver, Penticton or Kelowna, Castlegar, Cranbrook; "Cariboo Thunderbird" – Kamloops, Williams Lake, Quesnel, Prince George; and "Skeena Thunderbird" – Terrace, Smithers, Prince George.
Air service was with the Nord 262 Vistaliner.
From advertising, it appears service was to begin April 30, 1969.
Northwest Industries Limited, of Edmonton, Alberta, of which B.C. Airlines was a subsidiary, was purchased by CAE in 1962.
Pacific Western Airlines negotiated the purchase of B.C. Airlines in July 1970, with expected closure of the deal in mid-August.
President of Pacific Western Airlines was R.H. "Dick" Laidman.
Schedules for P.W.A., including the equipment of B.C. Airlines, were expected to become effective September 15th.
Neil Burton/15 July 2019.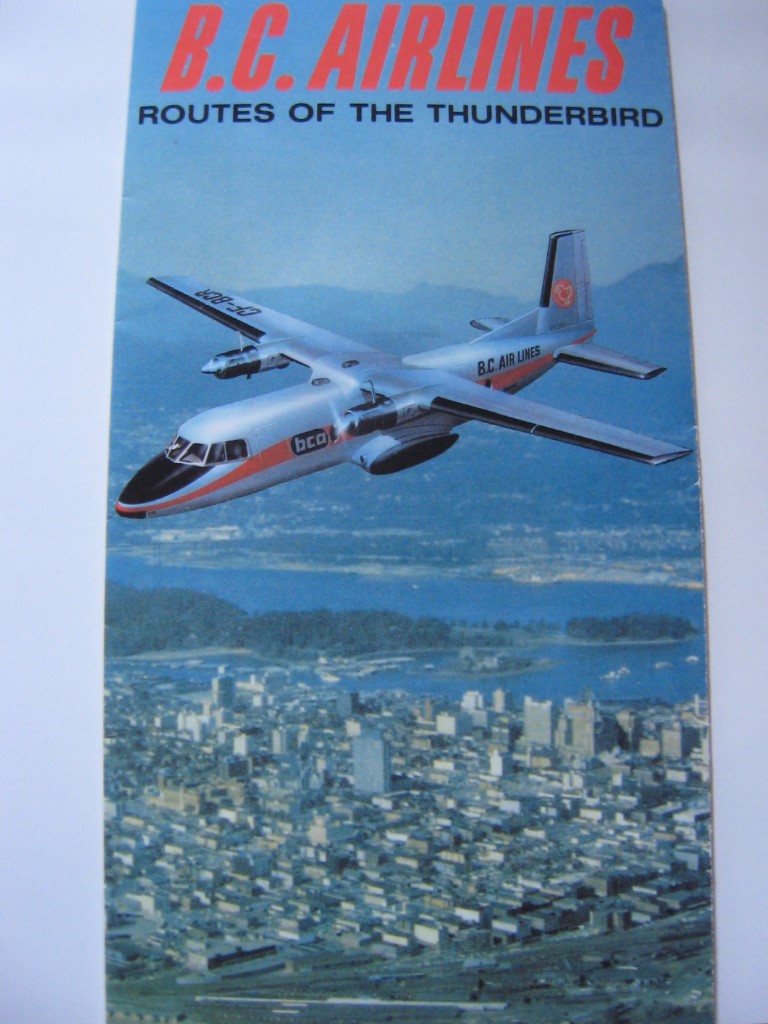 ---
July 7, 2019 C-GTAR Aer Lingus 737 (Photo Credit Anthony Hickey)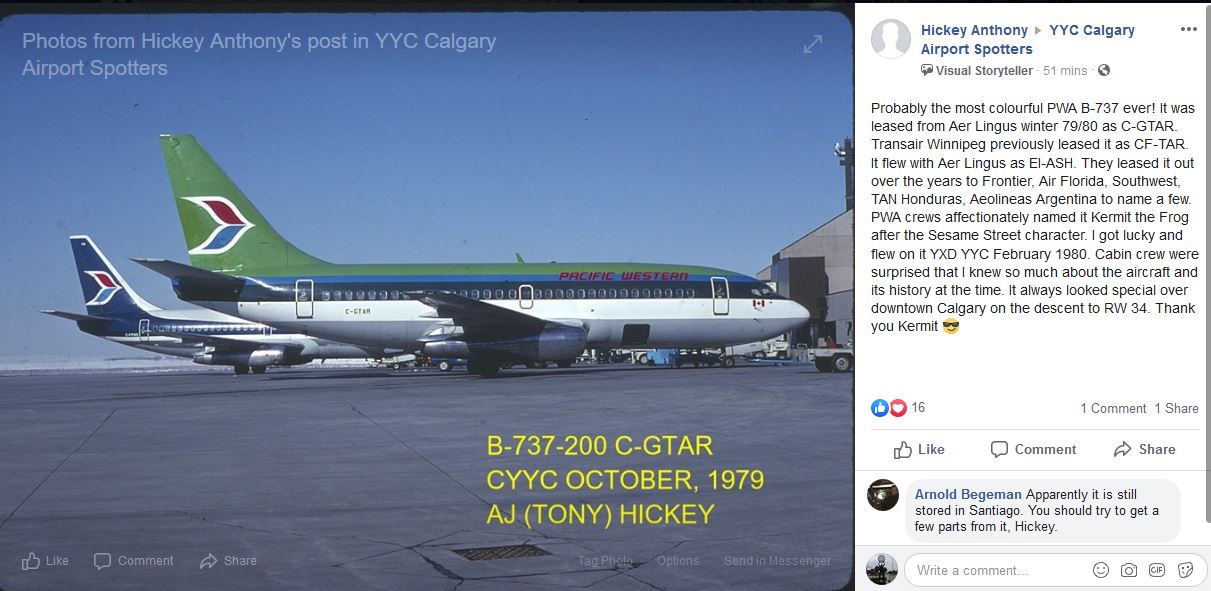 July 7, 2019 Hercules ReUnion YXD - 2019 Edition.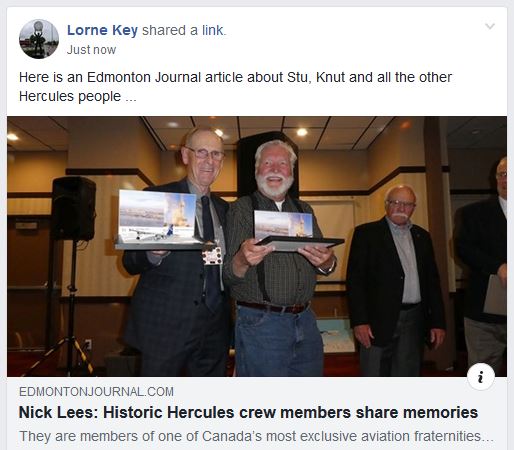 Click here for the news article.
---
July 4, 2019 Avro Anson
Rose Fleet submitted this picture of a rare PWA Avro Anson reg CF-PAC. The details of this aircraft were submitted by Robbie Stewart: The Avro Anson was a re-purposed ex-WW 2 Aircraft that was in plentiful supply post war and many found airline applications for a reasonable cost.
My Father, Captain Kees Fransbergen flew the Anson during the war, and did the training when the aircraft joined the Associated Airways and later PWA fleet. A good family friend and ex-Pilot for PWA ( Capt. Hank Fransen , later Martinair Holland) had a remarkable incident flying the Anson onto a small northern strip where the wingtip on one side was sheared off... the airframe mechanics flew up there and simply cut off the wingtip on the other side and the plane was flown back to Edmonton like that!


---
June 7, 2019 - Alberta Aviation Museum Update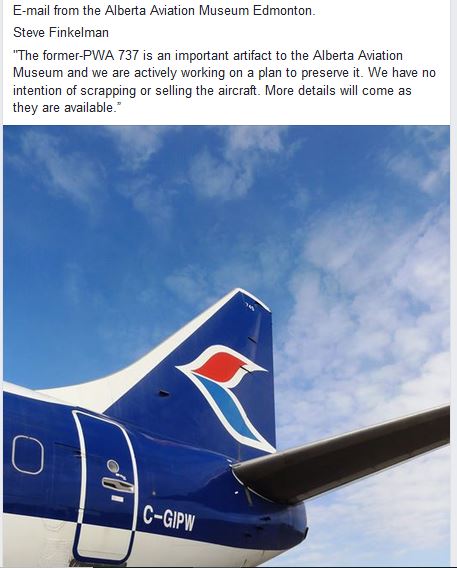 ---
June 5, 2019 - Boeing 767 Sticker (sent by M. Armstrong)


---
June 5, 2019 Boeing 737-275 A/C 746 C-GJPW
Turn Around at The Pas Manitoba. Acquired 05/09/1979


---
May 12, 2019 Capt. Arnie Young taking the photo of our Electra at Cambridge Bay winter ´74 .. temperature I remember was -51c (photo credit B. Thornton)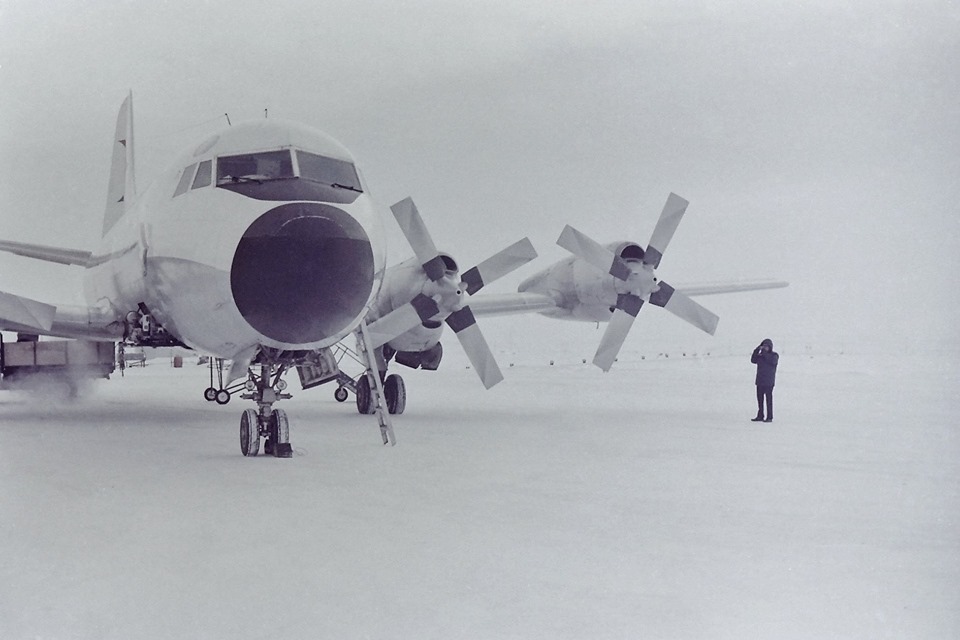 ---
1973 Electra L-188 Onload Fort Simpson, NWT (Photo Credit B. Thornton)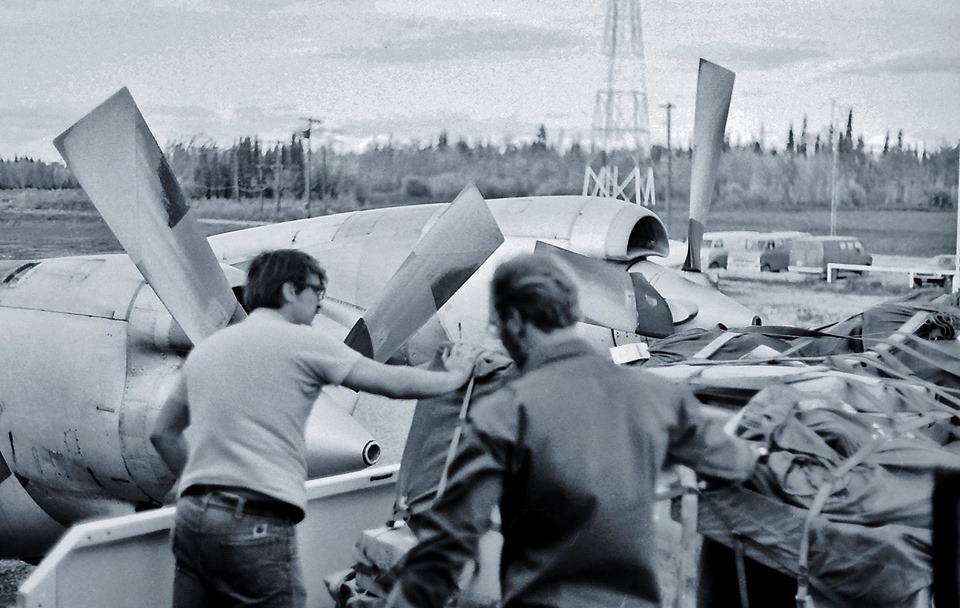 ---
April 24, 2019 - Canadian Fishing Charter Vacations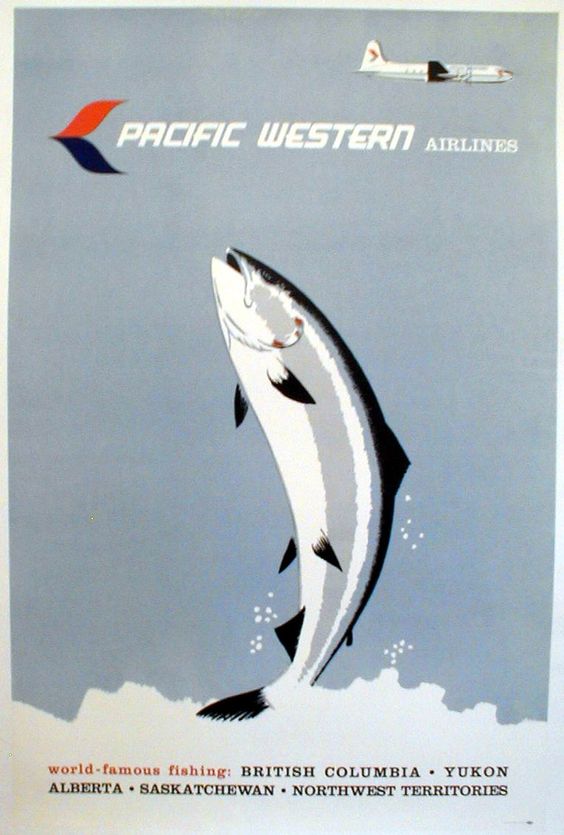 ---
April 3, 2019 From Airlines of the Past
March 29, 2019 - Wally Sutherland - Resolute
In Sep 1972, Wally Sutherland, a mainline employee based in YRB suffered a fatal stroke. It was a sad time for the airline. Several staff shuffles ensued. That fall, new staff including Jim Wyse, Jim Dobell, Martin Wilkins, and myself were sent to work the mainline scheduled service.
Today, I received a request from Wes Sutherland, Wally's son, who would like any info or pictures of his Dad. Wes was 7 Years old at that time.
From Wes: Hello. After years of looking, I finally found my late father's name in the PWA employees memorial directory.
Would love to chat with anyone who may have worked with him.
Is there a central point of access for information that you can be direct me to or someone who may know?
Many thanks.
Sincerely, Wes Sutherland skeena@shaw.ca or the Webmaste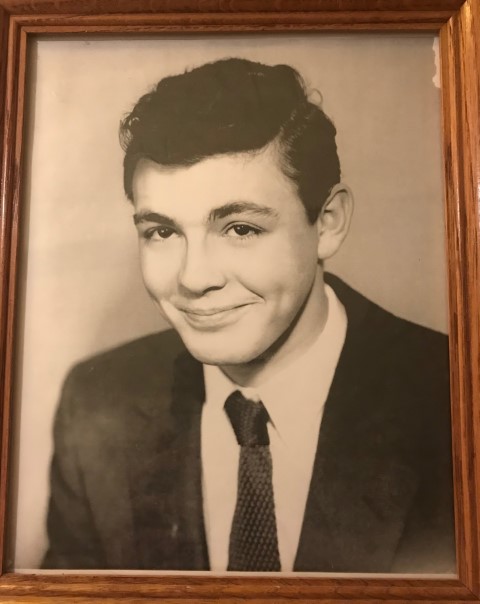 ---
March 25, 2019 Aluminum model of PWA Lockheed L-188 Electra.
Anthony Hickey is an aviation enthusiast, expert photographer and a long time employee at Calgary Airport. He has obtained an aluminum cast model of a custom made L-188. Anthony then polished and hand painted the aircraft in a/c 183 livery. It weighs 18 pounds, length is 28 inches and wing span 26 inches. It has been a labour of love and work in progress for approx 1 year. Also a/c 183 taken at YXD by Anthony Hickey. He is very proud to share this with you.


---
Feb 3, 2019 - Hercules Reunion - June 7, 8, 9 - 2019
From the desk of Stu Russell - Please mark the dates June 7, 8, and 9th on your calendars for the PWA Hercules Reunion. This 3-day fun packed event will take place at the Edmonton Inn XDI. If you are interested in more info, please email Stu at russellsf@shaw.ca.
" The Herc Rats welcome anyone from the PWA / CDN family who was involved in the northern airports, resupply operations with the L188 Electra, B737C, B727C and the overseas operations of the 707-320C. Come join the gang at the 8th reunion and share the tall tales and cool refreshments" .


---
Jan 31, 2019 Why does the B737-200 still fly in Canada?
This video has clips of some of the former PWA B737-200 fleet. https://youtu.be/7O5WHFBmuKs
---
Jan 21, 2019 Boeing 737-200 Gravel Kit
This is Boeing testing the B737-200C gravel kit on the Hope, BC runway circa 1972. This mod was a recent addition to the 737. I believe there is a tie-in to the a/c 732. PWA took delivery of 732 in 1969. https://www.facebook.com/pilotscafe/videos/329647897586301/
---
Jan 21, 2019 A/C 746 at The Pas, MB
A newly posted B737 a/c 746 by EricG at airliners.net
https://imgproc.airliners.net/…/airliners/7/8/6/5357687.jpg …
---
Dec 28, 2018 - From the desk of Capt. Terry Champion (Ret'd) - RE: Capt Jack Johnson's Jenny
The plan for the placement the Curtis Jenny at the Museum is to move an airplane or two away, to open up a wide enough and create a prominent location. This will be done early in January when the wings will be attached and the display built. The alternative platform will not be needed so the funding target has been reduced accordingly. Including the acquisition cost and installation of the display the target is revised to $8,000.
The total donations received so far have reached $7500.00 (Dec 28/18) with a few firm pledges still to come. I am extremely happy with the progress and the results and want to offer a heartfelt thanks and gratitude to the alumni of PWA for their support. With Kind Regards, Terry Champion
(see below for display funding campaign)
---
Dec 2, 2018 - Boeing 737 Operations at Fulton Field - Kamloops Airport
A historical document created by our Neil Burton on B737 operations at YKA
---
Nov 5, 2018 - Boeing 767-200 Aircraft and Boeing 737. (credit Chris E.)
A unique and rare photo of both Boeing 767-200's at the gate in Vancouver, plus a Boeing 767 in Calgary and a 737 on final. Great pictures.
---
Oct 20, 2018 From the Desk of Capt Terry Champion (ret'd) Jack Johnson's Jenny



To the Alumni People of Pacific Western Airlines and Canadian Airlines International.
This authentic 1918 Curtiss JN-4D 'Jenny' was the oldest airworthy aircraft in Canada when it last flew in 2009. It was built by the Curtiss Aeroplane and Motor Company in Buffalo, New York, in May 1918. During the First World War it was stationed in Waco, Texas and was used for training pilots. After the war it was owned and flown in Uruguay by a Hungarian pilot who had flown for Germany during the war. In 1929 he put the Jenny into storage at his shop in downtown Montevideo, where it sat until discovered by an American missionary in 1971 and then repatriated to the United States. Unable to complete the restoration process, he sold it in 1977 to Capt Jack Johnson (ret'd). 1977. After 21 years of painstaking work, Jack's Jenny took to the skies again on July 16, 1998.
The aircraft shown here is 100 years old and is an original, not a replica. The owner, Capt. Jack Johnson, retired Pacific Western Airlines pilot, has graciously donated this valuable aircraft to the Alberta Aviation Museum in Edmonton. This very welcome addition to the Museum's collection was not expected at this time so the Museum has no budget to develop the appropriate display space required. We are asking former employees of PWA and Canadian Airlines to help fund this worthy aviation history project. The museum is also seeking funding for this project and discussions are being considered for that organization to make matching funds to our contributions. Any funds left over will be used to enhance other displays in the historic Alberta Aviation Museum WW2 hangar. Please mail your cheque to the museum and designate your donation to "Jack Johnson's Jenny:" Alberta Aviation Museum 11410 - Kingsway Edmonton AB T5G 0X4 OR credit and debit cards will be accepted at (780) 451-1175. Tax receipts will be issued for the full amount. Your contributions made through the airline alumni group will be appropriately recognized and incorporated into the Jenny display.
Thank you, Capt. Terry Champion, (Retired)
---
Oct 9, 2018 Flight PW3801 Memorial Park Leduc
From the Desk of S. Russell. Good afternoon:
The Lions Park In Leduc was formally opened on the afternoon of October 6, 2016 and the PWA 707 memorial looked really well done.
We estimated there were approx 100 attendees and believe close to half of them were of PWA heritage. Some photos from the event have been attached. As you will see in photo 001, the Loadmasters were well represented and having our most senior LM Jim Menk with us made for a super day. Jim is an amazing 89 years young and still keeps on the go walking 5 kms per day when the weather is good. Knut was able to swing by Jim's place in south Edmonton and bring him out to the celebration, which worked out very well for everyone.
There were more PWA folks there than we have photos of, but expect you may recognize the ones we did catch smiling for the camera.
The park and memorial looked great and " Hats Off " to the Lions and Leduc and the many people who assisted them, for making this a reality and by having the 707 memorial included in the park. It shows real respect for the crew and our PWA heritage, especially for younger folks who have no knowledge of PWA, the crash or the era of flying cattle, and will learn of it when touring the park in the years to come.
If you happen to be in Leduc, just south of YEG, please stop in to the Lions Park and check out the memorial. It will be worth it. Hope you all have a Happy Thanksgiving! Stu
---
Sep 27, 2018 - The Electra L-188 in the Arctic



Photo Credit: S. Russell
---
Sep 25, 2018 - Leduc Memorial Park
These pictures are from the Leduc Memorial Park with a dedication to the Pacific Western B707-320C crew who perished in January 1973 on CF-PWZ. The photos were submitted by and the credit goes to T. Dirsa (TD Coach) of Edmonton who was instrumental in putting this together. We, the PWA Alumni sincerely appreciate installing this memorial and and thank you for the dedication to the lost crew of PW3801.
From T. Dirsa: The sign for the PWA Flight 3801 is now up. They are located about a 3 minute walk from the park's entrance. Anyone wishing to attend the park's dedication it will be on Saturday Oct 6th from 1 to 5 pm.
Also - the organizers are trying to contact Cynthia Jung, daughter of Captain Art Jung. If you have any coordinates, please email the webmaster.
This is a Google Maps link to the enrance to Leduc Lions Park. The site is below the C in Leduc on the map.
https://goo.gl/maps/wtnHd3i7w5M2
Schedule:
Some additional information regarding the dedication of the PWA Flight 3801 memorial.

Arrival time 1pm
Speeches 2pm
Hot Dogs will be available
---
Sep 22, 2018 - Leduc Memorial Park - Dedication to Crew of B707-320C: From the desk of S. Russell
Tom Dirsa in Edmonton has been working with the City of Leduc on their plans to open a memorial park on the site of the Pacific Western 707-320C CF-PWZ that crashed at the Edmonton International Airport @ 0834Z 02Jan1973. The accident occurred while attempting to land in a severe winter storm and resulted in a loss of all crew members. It is my understanding the memorial, with the names, photos and information on the five crew members (Captain Art Jung / FO Lowell Doerksen / Flt Eng George Dormer / Loadmaster Keith McMahon / Proj Mgr Bill Vance) will be officially opened Saturday 06 October between 1300-1700.
Tom will share any additional details on the event and they will be passed on as soon as they are confirmed.
It is great that our fellow colleagues are being recognized after all this time and a tribute to the City of Leduc and YEG for their efforts in doing so.
---
Sep 3, 2018 - Prince Phillip's 1954 visit to British Columbia
From the desk of Neil Burton (YKA), a 1954 article about Prince Phillip, a Pacific Western Mallard and the visit to British Columbia.
---
August 14, 2018 - PWA Reunion Picnic 2018
From the desk of Glynis Santee. I had a wonderful time at the PWA reunion yesterday!! Great to see everyone.
---
August 12, 2018 PACIFIC WESTERN AIRLINES 2018 - PICNIC/REUNION
By all accounts, this memorable events was an overwhelming success. Kudo and thanks to Gale and all the organizers - volunteers who made this happen. Thanks to Neville Gosling and Gale Brisseau for the photos.

---
July 10, 2018 - Boeing 737 at Norman Wells.
That is K.Carson enplaning for the trip south. Photo Credit N. Dargie


---
July 4, 2018 Edmonton Muni Ramp Reunion.
From the desk of Dennis Erickson: History has been made at Fawn Meadows RV Resort Delburne AB. First annual Pacific Western Airlines YXD ramp reunion has been held and was very successful with many great airplane stories of properly loading an airplane on time. In the early 70's, the airline service into Canada's north was booming. Communities such as Inuvik, Yellowknife, Norman Wells, Resolute, Cambridge Bay, Uranium City and others saw strong growth. PWA saw this opportunity and put cargo aircraft such as 732 and later 742, the 727's, Hercules and Lockheed Electra freighter aircraft. It was this ramp crew that loaded and off loaded tons of cargo, baggage and mail. In terms of tonnage, it was probably the biggest ramp operation in the system. Add into that the 20+ daily Airbus flights and regular domestic schedule, this crew was some of the hardest working guys in the system.
June 29, 2018: Map to Hazelmere RV Reunion Picnic Site taking place August 12, 2018
https://goo.gl/maps/z4E91mmM3Jm
---
June 29, 2018 - Boeing 737 - C Model Calgary
Boeing 737-275C C-GBPW parked at YYC from the Rob Rindt collection. Triple hybrid!Canadian titles, nose cone, and blue belly. America West cheatline, and PWA tail logo.


---
June 7, 2018 - A Poem from D. Currie (Capt Ret.)
Off to MEXICO with BOB ROWE

Behind us there's two hundred faces
Beholding our jet break left
The snapping thunder of our JT 8's
Has left the odd one, full of breath

What a buzz, 300 feet
Directly over the hotel pool
Everyone looked up, some of them waved
Perhaps someone said, `those fools'

Maybe we were a little low
Though well left of the tall TV antenna
With the plane on its side the logo would show
Advertising is always such a dilemma

The last time I flew out of here
Was '71, in slow old red Aeronca
Snapping out of the turn Bob and I split for Mexico
Behind us, West End, Grand Bahama

For the last two days we've been partying back there
We know lots of the people that waved
Fifteen years ago, my plane was 200 knots slower
Back then I wasn't so bold or so brave

But Bob had said, `Let's do it!'
Which meant a steep turn as soon as we got air
Standing up in front of Captain Fransbergen
We're going to make quite a pair

Rolling right we cleared the palm trees
The wheels went in the wells
The flaps came up and so did our speed
As we roared right over Jack Tar's hotel

I'll never forget all those startled faces
As our Boeing dominated the tranquil scene
Bursting into the blue above the shoreline
Of the Caribbean, placid, emerald green

Sometimes I hate being a co-pilot
Some captains can make you feel below
But as we leave a thousand, I'm way up high
Thank you Bobby Rowe
30 April 1985


---
June 6, 2018 - Hercules Working in Bangladesh by J. Sproat.


---
June 5, 2018 - From the Herc Reunion 2004 (by S. Russell)
L-R Garry Mathewson, Cliff Beck, Knut Ohm, Bryan Benay, Ernie Yurkiw, Stu Russell, Tom Rait, Al Philpott, Harry Beck


---
March 26, 2018 - Edmonton Industrial (Muni) Airport YXD in June 1971.
Photo Credit Anthony Hickey, Aviation Photographer


---
February 11, 2018 Unveiling of first Boeing 737 with Marie Hryciw Lass January 1967.
Marie was a F/A 1961 -1967


---
February 11, 2018 Annual Reports
Mike Wainwright (son of staff member) advises his dad collected numerous PWA company annual reports dating back to the 50's. If anyone wants them, let me know. Mike lives in Merritt, BC.
---
January 28, 2018. Pictures of a/c 740 later to be part of the West Coast Reef. Taken at YYC by Anthony Hickey - Aviation Photographer
---
January 28, 2018 - DC-7 Overseas Ops
Regarding the picture of a DC7 in front of a Swissair DC8 on an european airport and why it might have been there, I can contribute the following:
In July of 1964 I flew on a Pacific Western DC7c from Frankfurt to Toronto via Shannon and Gander and returned to Frankfurt in August of 1964 on a DC6B. The flights were chartered by AFS (American Field Service), an international student exchange organization headquartered in New York, to transport exchange students between the US and Europe. It was a memorable experience for me and although I did not follow an aviation career I have been a private pilot for 45 years and have owned aircraft ever since then.
M. Sutter Granbury, Texas



---
January 23, 2018 PWA Alumni Staff Reunion Picnic Get Together - Surrey BC.
From the Desk of Gale Brisseau.
*********************************************
Do We Need a PWA Reunion? - Yes, we do!
Date: Sunday August 12, 2018
Time: 13:00 - 23:00
Place: Hazelmere RV Park
18843 8th Avenue
Surrey, BC
This will be an Alumni ReUnion Picnic Get Together and I have rented the Picnic Shelter and Group camping and picnic area for the day. If anyone wants to bring their RV, sites are available to rent, I believe the cost is $50 for the night. Arrangements to be made at 604 538 1167.
More details will be available later as to jobs for volunteers etc. We are trying to keep it simple. BYOB/pot luck and i am looking into having a food truck for people who do not want to bring food. We will need to get an idea of numbers but i am thinking If we get 100 people the cost will be $10 pp.
I took the pictures below yesterday of the venue so you can get an idea.
Watch this space for updates and further details.
---
January 23, 2018 - A poem from Capt Dennis Currie - retired.
AT THE MUSEUM WITH TWO FOSSILS - PWA Herc Reunion 2011

745 appeared so small as we climbed the maintenance stairs up her starboard side
She seemed hardly much larger than the F 86, sitting in the old XD hanger inside
Wayne and I squeezed into the 737 cockpit, careful not to bang our heads
"I used to think it was bigger than this", I agreed with what he said

Wayne is in the left seat, I'm in the right
Hung over from drinking Captain's Rum with Wylee and PJ all night
Wondering if that's why we felt so at home
Remembering launching in this rocket ship from this ancient aerodrome

Remembering all the great guys we flew with who were gone
Amazed at what we got away with for so long
Knowing if we could just start it, we could fly it all right
If only we hadn't partied like Herc Rats at the XDI last night

Of course that's why we came here, to relive the Herc
Hard to imagine all that fun with a C130 was our work
Or that this swept wing jet airplane was another that we flew
Honoured to be, two of the few

To have flown in the High Arctic where Franklin was lost
The historic search that continued for years, no matter the cost
We had won over the frigid weather, searching for oil
A hundred and thirty years later in relative comfort, compared to their toil

Low and over where men had watched their sailing ships crushed
In a Hercules, transversing the same frozen Northwest Passage we rushed
Drilling for black gold to quench our ship's thirst
So detached from the brave men who staggered through first

To me we were some of the boldest men of our time
Adventurers in the High Arctic, like sailors, but flying
Perhaps it was hard to be humble when you've seen the world at the top
Pulled throughout the Canadian Arctic islands by those huge Hercules props

Departing 745 Wayne and I went back into the museum, which we are now a part of
No longer doing that job we most loved
Glad to be here alive to relive it again
Admittedly embarrassed at the times when we had complained

Capt. Wayne Caswell (retired)
Capt. Dennis Currie (retired)
745 C-GIPW (retired)

---
January 22, 2018 - YVR Reunion Event
Under the guidance of Gale Brisseau, a Summer 2018 Reunion event is being organized for a TBA location in Vancouver. Watch this space for updates.
---

December 27, 2017 - Boeing 737-200 Cargo Aircraft courtesy of A. Hickey.

---
December 6, 2017 Some of the fleet sourced by D. Dertien.

December 1, 2017 - The Russ Hill Hotel - Gatwick
Greeting card from the B707, DC-7 and C-130 crew hotel at Gatwick. (by J. Kapeller)
---
November 18, 2017 - A 737-200 Come Home
An article from the Vancouver Sun. Walt Lazaruk went to the CA desert and recovered the flight deck of a former PW Boeing 737, returned it to Richmond BC and built a flight simulator. He now wants to pass on his creation. (submit by J. Harrowar)
Wanted Loving Home for a Boeing 737 Cockpit and Flight Simulator
http://vancouversun.com/news/local-news/wanted-loving-home-for-boeing-737-cockpit-and-flight-simulator
---
November 4, 2017 - From the Desk of Peter Lema.
Memories of the P W A Social Club in Edmonton (YXD)
Throughout the 1960's, 70's and 80's; we had a very active and involved Social Club at YXD. We had several hundred employees working for the airline; as this was the main base for Northern Operations. The Club's coffers were always in the black; all employees were automatically members.....with $1.00 deducted on every paycheck. In the early years, the Club parties (Spring Break-Up), (Fall Freeze-up) and (Christmas) parties were held at the old Airliner Hotel or at dingy Community Halls. By the 1970's, (thanks to Sales Department Ron Moore) we decided to go "first-class" and start having our parties at the "Mac" (One of Canada's great Railroad Hotels) (The MacDonald Hotel) The Main Ballroom was all decked out and the buffet featured Alberta Standing Rib Roast and all the trimmings..... Don McKenzie and his 12-piece Brass Band provided great dance music....these were great parties; attracting 350/400 employees and spouses (all dressed to the "nines") From then on; all parties were booked at this great location. My daughters (Joanne 15) and (Kathy 13) were the "coat-check" girls one year at the Christmas Party......putting out a "cup"......they made a mint; "Let's do it again Dad" !!
Circa 1962, the Social Club came up with the idea of: "A Picnic Day in the Mountains". Our Chief Executive at that time was: Jim Robins. He gave us the use of a PWA plane for the day. CF-PWE, a 55 seat C-46 was fueled up by ESSO (for free)....Captain Dean Maclagan and F/O Mel Neidig donated their services.....along with 2 flight attendants (Names ?) The event was well promoted; but we only sold 35 seats.
$5.00 per passenger covered everything......the flight, on a beautiful sunny Sunday (June 21st); Edmonton-Jasper-Edmonton and a full KFC picnic in Jasper. Note: this aircraft was the largest ship to ever land at Jasper!!
Some hiked; others biked; others went horse-back riding....while others remained at the Jasper Swimming Pool with their 'cough-medicine". Dean and Mel put on a "high-board" diving display at the pool......which was very impressive. We departed from the Jasper Airport at sunset.....the plane at the very end of the runway......both engines at full-power.....aircraft shaking......brakes released.....and we headed down the runway......and perhaps (?) raising the landing gear to get airborne. We flew over the Columbia Icefields......headed east to Red Deer......then north to the High Level Bridge and into the Muni.......(all VFR). The flight deck door remained opened and all got to go "up-front" to witness the marvels of Aviation.
A memorable day and a memorable flight!!
Peter Lema President
---
October 21, 2017 - Two posters from the Vancouver Aviation Show PLUS a brass door cap and the label from a Captains Reserve exclusive Kelowna wine - contributed by J. Vanderhill

October 15, 2017: Herc on a sand runway (from N. Peterson)

---
September 15, 2017 Loadmasters
In honour of the recently departed Rod Pilling, the Magnificent Seven, a group of former PWA loadmasters celebrated his life in Calgary on Aug 12, 2017. From L-R: Ernie Yurkiw, Knut Ohm, Norm Geiger, Stu Russell, Terry Martin, Glenn Peters, Wayne Carter


---
September 2, 2017 Boeing 727 at Edmonton Muni C-1975


---
August 31, 2017 From Capt. Terry Reece.
Terry made contact with the Webmaster regarding one of our senior flight crew members: Jean Robert.
Hello: For those old timers. Jean Robert is in Assisted living in Bellingham WA @ 702 32nd Street, #208 Bellingham, WA. 98225. Jean is battling cancer. He has lost use of his voice for the main part, but can whisper. His email is: jean80robert@gmail.com . I know he would appreciate a note. Jean Robert is now 84. Flew Bristols on the DEW line and L382 Hercules. He lost his eye on loan to ASA in Africa. Went to Fairbanks. Flew round engines L382. B737 at Interior AIA. Mark Air. He was born on Great Bear Lake and raised by nuns after his mother died of TB. She was native. Best regards Captain Terry Reece ( Interior, Alaska International, Mark Air)
----------------------------------------------
P. Lema advised he knew Jean Robert c1959. He flew the C46 and the DC-3.


---
August 28, 2017 - B707 Cargo Ops.
It's Nov 1972 and PWA is flying beef to Europe and bringing Spanish grapes back to British Columbia.


---
August 20, 2017 - New Uniforms CSA 1977



---
August 17, 2017 Pacific Western Tours Prince Andrew.


---
August 16, 2017 Speedbird: PW-TZ Merge



---
August 15, 2017 - From the 1979 Annual Report
---
Aug 6, 2017 - Edmonton
From Ann Bidlock and authored by Michael Bidlock, we have this amazing video of Ann's retirement party. Definitely a good time by all. Congrats Ann. Watch it here:
https://drive.google.com/file/d/0B75l1eXv9RtEZkVBV01HUURiaXM/view
If your player does not work, try this link.
---
July 16, 2017 - Looking for recollections on Thomas Peter Hayes - flight crew 1950's.
From the Desk of Ann Patching - Australia. She is the daughter of a pilot Thomas Peter Hayes from the 1959 era of the company and wishes to know more about his life in Canada. Email any recollections or information you might have.
*********************************
Wondering if you may be able to help me.
My father was a pilot for Pacific Western in 1959 flying a DHC-Beaver between the logging camps of British Columbia and Seattle. He would ferry the loggers from the camps for their breaks and also carried the payroll for the logging company.
He was an Australian citizen and passed away just over a year ago now. I am trying to trace his time in the US and Canada as I am coming to scatter his ashes in Canada, a place which he had wonderful memories of.
I have made numerous enquiries to different Government Departments in both Canada and the USA but it can take months and months for any information to arrive, and as yet I have no firm information to start working from.
I am not sure if he lived in Vancouver or Seattle. I do have a photo of the car he owned at the time but aren't sure whether it's a US or Canadian number plate.
I do have a copy of his passport and photographs which have him pictured with other twin prop Beechcraft A18A (Seaplanes) which were owned by Pacific Western.
Ultimately I would like to know who he worked for, where his work took him and where he lived, places I would like to see whilst I am there.
When I saw your site I thought that just maybe you might know how I could further investigate this lead. I do remember that he told us that he had a women give birth on one of the trips he piloted which I thought maybe someone of that vintage may have remembered.
I will attach some photos and if there is anything you may be able to do or send me in the direction of someone who may be able to help I would be so grateful.
I have made contact with an external Canadian researcher in the hope that he will be happy to work with me on issues relating to immigration etc as I don't have the approval to do so living in Australia and because my father has not been deceased for more than 20 years, which is a Canadian Government requirement. I have heard nothing back as yet but only reached out a day or so ago, so will hopefully hear back from them this week.
Below are some photos that may or may not be of any assistance.
Anything you may be able to do to point me in the right direction or help in any way, would be so graciously appreciated. I am awaiting information from the Australia Department of Defence (where he was trained as a pilot) with his pilot's license number. I don't even know whether he was able to fly on that Australian license whilst in the US/Canada or whether he would have needed one issued by the Department of Civil Aviation in the US/Canada.

I also have a photo which I am getting a copy of which shows my father standing/getting into the cockpit of a DHC Beaver plane. Although there are no identification markers on the plane I thought it may jog someone's memory. I will forward these 2 items when they arrive

Kindest regards
Annie Patching (Hayes)
Benowa QLD 4217 Australia



Beach 18A Kitimat - photo Thomas Peter Hayes
---
July 14, 2017 - 1960's Gatwick
1960's aircraft photos by Ken Fielding at London Gatwick. The Boeing 727-121 would later become fleet number 721 / CF-PXD.
May 30, 2017 - Yellowknife - early 70's
Sent by L. Chan and found on a YK Memories Forum. Thanks to A. Philpott for sending the names of the YZF Check-In Agents.
May 24, 2017 - The Sign from YMM
This object was found and rescued by Sonny and Deb Hauser and is in the process of being sent to the Alberta Aviation Museum.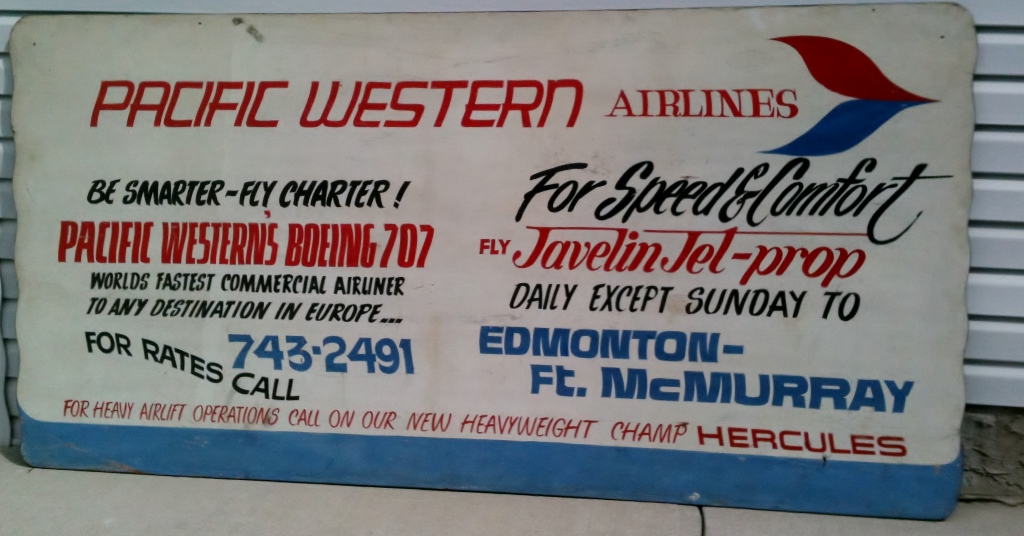 ---
See the Archives Page for older articles