Jan 2010
Chris Ettinger sent this update photos from YXD where AC745 resides and she still looks good.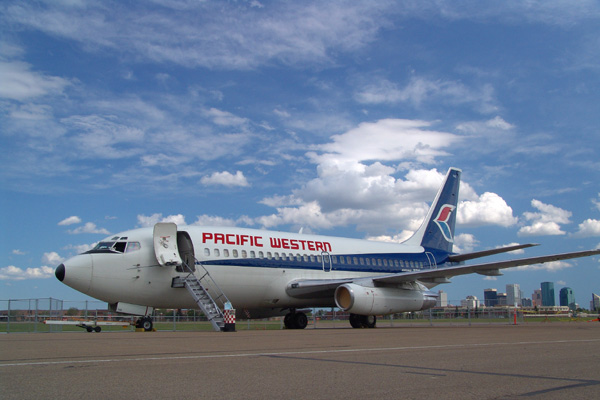 ---
Feb 2007
Air Canada donated a Boeing 737-200 aircraft registration C-GIPW to the Alberta Aviation Museum. Air Canada also painted the aircraft in 1970 Pacific Western Airlines colors. The Edmonton aviation people and the PWA Alumni are extremely grateful for the thoughtfulness of Air Canada. Please visit the Air Museum located at the City Centre Airport, Edmonton where this aircraft is now proudly on display and is also used as a technical trainer for aircraft maintenance students.
AC745 was re-painted in the 1970 paint scheme and after the rudder had been painted the aircraft will no longer be certified for flight. Here are a few pictures of that memorable day.
Capt T. Champion (ret) presided at the Ceremony upon the arrival of A/C 745 at the Alberta Aviation Museum - YXD
Enjoy the Photo Galleries and thanks for the Update C. Ettinger
---