---
A Website Dedicated to the People and History of Pacific Western Airlines
This website is created, funded and managed by the former employees of Pacific Western Airlines. The target audience is that membership. If you have any contributions or comments, please submit them to the Webmaster. We wish to say thanks to our many generous contributors, supporters and readers. We are also on Facebook This very dynamic group has many involved and interactive members.

While you are visiting, you may want to play the Pacific Western Airlines Song

---
March 25, 2020 Boeing 767-275 - Whitehorse
Our 767-275 operating charter flights for passengers routed to / from cruise ships for their onward transfer. Photo: Credit: B Wright
---
March 9, 2020 L-100 Hercules CF-PWK and CF-PWE (a/c 732) Calgary



Credit A. Hickey Aviation Photographer
---
February 29, 2020 C-GSPW a/c 783 Still Flying for Air Inuit
This is our B737-275C C-GSPW a/c783 now owned by Air Inuit. Submitted by Hasse Marthinsen. This airplane is still flying in Canada under the same registry for Air Inuit. These pictures were taken the other day in YUL. It is the pride of the fleet. Please pass these pictures on as I have all my working friends in PWA. It still flies in a combi configuration. It has been fitted with an EFIS system upgrade. Just great to see. I worked in YXD in 1967 for 2 years and the rest in YVR as a learner , mechanic, crew chief and supervisor in maintenance.

---
February 25, 2020 - A 70's era Boeing 737 Model for sale.
Choose carefully before buying.
https://www.kijiji.ca/v-art-collectibles/calgary/vintage-pwa-pacific-western-airlines-model-airplane/1487941347
---
February 9, 2020
Some of the fleet from various sources including R. Corrin - Vickers Vanguard/Vickers Viscount/TCA/Air Canada/American/British Airliners. The picture of a/c 671 is a new to me but all were taken on a nice sunny afternoon on a busy day of Pacific Western operations.
---
February 25, 2020 - Memorabilia from A. Giolma
---
January 26, 2020 - Boeing 707-351C Model of CF-PWJ
This in from Anthony Hickey, a Calgary Aviation Enthusiast and Photographer who completed this model of our Boeing 707-351C: CF-PWJ. It is an amazing piece of art. It sits next to a solid aluminum Lockheed Electra that Anthony had completed earlier.
"After 10 months I have finally completed the restoration of this large model. It is a very heavy solid aluminum casting and it required a lot of work. It was previously in German Cargo colours and condition was poor."
---
January 20, 2020 CF-PWG In YMM
This picture of CF-PWG was taken in Fort McMurray in 1965. The sender P. Lawrence said that in the photo is his brother who was flying Edmonton to Fort Smith via YMM. CF-PWG was sold to Gateway Aviation and then went on to work for Northward. Note the former Canadian Flag with the Union Jack on the terminal building.


---
Pictures from the arctic. CYUB Tuktoyaktuk, had 5000 foot east /west runway composed mostly of gravel. Depending on the wind conditions at the time, aircraft could neither land or depart after the b737 departed because of the zero visibility in dust. Fortunately this only lasted for a few minutes. As you can see by the third photo the aircraft used just about all of the 5000ft. Hope you enjoy the pics. credit R. Orr
1. GDPA Departing runway 27 at CYUB, Dewline hangar in background.
2. B737 taxing into DOME apron Tuktoyaktuk
3. B737 rotating runway 27 Pingos in background
---
January 9. 2020 Douglas DC-4 (C-54) CF-PWJ operated for the airline from 1959 to 1972. Picture by R. Orr


---
January 7, 2020
A couple C-130 Hercules pictures of CF-PWO. Location thought to be YCB and c1967.
Note the extra fuel tanks. More on Long Range Tanks Stu Russell - The Herc could hold 48,000 lbs of fuel in the wings and an extra 18,000 pounds in the pylons. It burned 5000 lbs per hour and opt 300 stat miles / hour. The tanks weighed 1600 lbs so increased the EOW and reduced the payload by that amount but the tanks were critical for overseas flights.
In the early years when they were tramping around the globe they stayed on - each new airplane came with a set - when they started moving rigs in the arctic they came off - short hauls heavy loads short runways - but were installed for specific overseas operations when required. This aircraft was lost in 1969 without fatalities. Submitted by R. Orr
---


December 24, 2019 Merry Christmas
Our Christmas Wishes to all of the special people of Pacific Western Airlines. We made this airline great! As we enjoy this festive season, we must also pause and remember the incredible people who are no longer with us; never forgotten. To all of you a very Merry Christmas and a Happy and Prosperous 2020 New Year.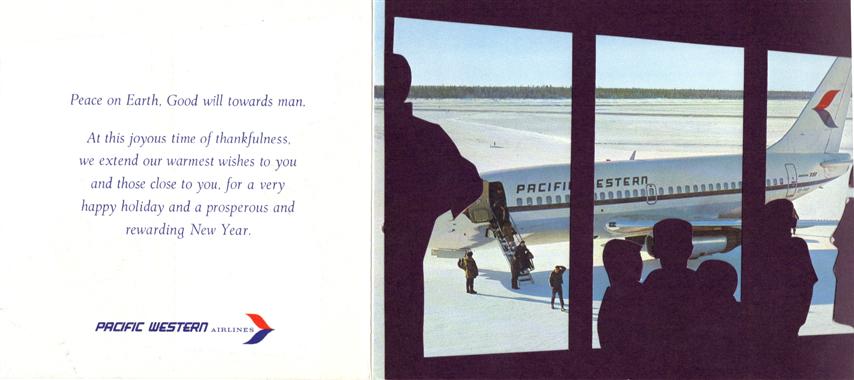 ---


December 7, 2019 Terry Champion Honoured at the Alberta Aviation Museum (from AAM - Facebook)
Today, the 418 Squadron and Alberta Aviation Museum honoured one of our most dedicated volunteers, Terry Champion. His name now christens the 418 Squadron Gallery to commemorate the years of tireless fundraising and community initiatives that made the museum what it is today! Thank you Terry for your continued service!
---
November 24, 2019 C-GPPW Boeing 737-200
This photo posted in Flickr @timmartin - Caption reads: "C-GPPW@Winnipeg 11Mar84. Like most of PWA's B737 fleet, 'PPW was handed over to Canadian Airlines then Air Canada through mergers before export to the US in 2003".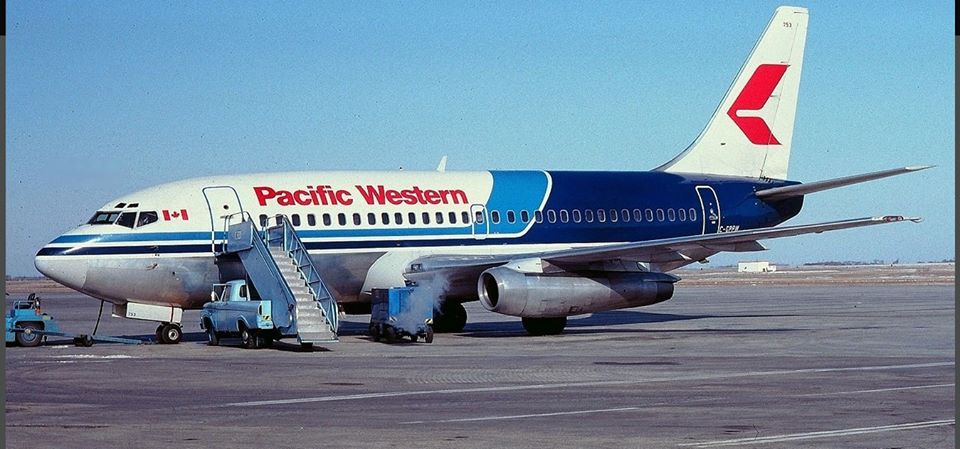 ---
Oct 10, 2019 - B707 Dedication at YEG
From the desk of Cynthia Kent (Jung)
Today, as I was randomly searching for some information about my father, Arthur Jung, I came across the PWA Employee Alumni website and the entry about the Leduc Memorial Park. To this day, I have mixed emotions about the crash but am very moved to know that there is now a memorial to the lost crew.
Unfortunately, I wasn't aware the efforts to establish the memorial and regret that I wasn't present at the dedication. However, I will be sure to plan a visit to the park sometime in the near future, and if possible, would like to arrange to meet and thank those responsible in person.
I would appreciate if you could please pass on to all how touched and grateful we are to learn of the Leduc memorial park.
Kind regards, Cynthia Kent (nee Jung)
---
Sep 26, 2019 - An artist upscales a PWA Hercules.
An alumni requested a painting of CF-PWO based on a poster. This was how she did it and the results
https://youtu.be/-P3e9PqSAbw credits R. Ward & Lana Larouche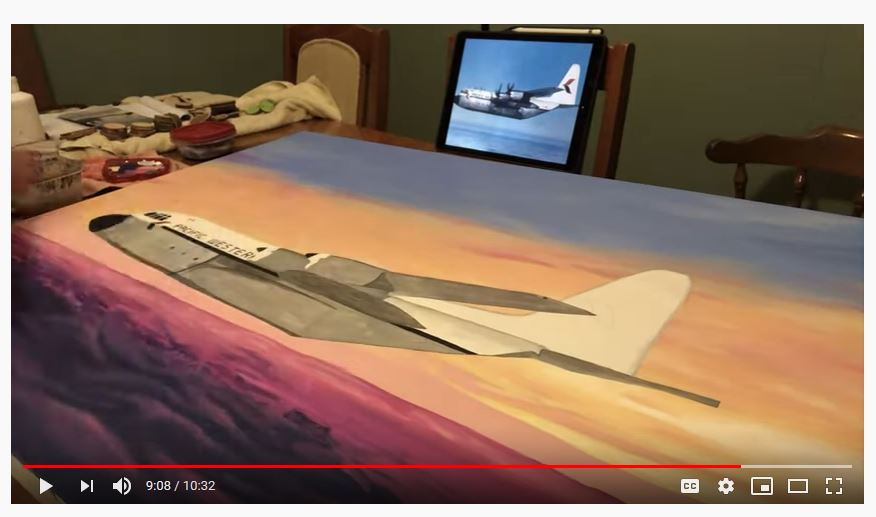 ---
Sep 17, 2019: History of CF-BQH Beechcraft 18A & the Story of L and M Air Service from the desk of N. Burton Resident Historian.
CF-BQH registrations: CF-BQH – photo courtesy of E. Eppler.
1940 – manufactured by Beechcraft
1940 – May 08 – Canadian Airways Ltd, Winnipeg, Manitoba.
1942 - by name change – Canadian Pacific Air Lines, Montreal, Quebec.
1948 – June 29 – H. R. McConachie, Fort St. James, B.C. (Harry Russell McConachie believed to be Grant McConachie's uncle).
1949 – July 04 – L&M Air Service Ltd, Vernon, B.C.
1949 – December 12 – H.A. (Hugh) Mann, Vernon, B.C.
1953 – August 21 – Pacific Western Airlines Ltd, Vancouver, B.C.
1958 – September 24 – R.H. Laidman, North Vancouver, B.C.
1961 – September 29 – Aircraft destroyed by fire – forced landing after take-off due fire in cabin.
Source: Canadian Civil Aircraft Register (1929-45) compiled by John R. Ellis, published by the Canadian Aviation Historical Society.

Part of a brief history of the Okanagan Valley service of L and M Air Service Ltd..
On 26 October 1948, L and M Air Service Ltd officials gave evidence toward an application for service at an Air Transport Board hearing at the Court House, in Vernon, B.C.
A service was being proposed to connect the cities of Kamloops, Vernon, Kelowna and Penticton, for a link to the east-west operations of Canadian Pacific Air Lines, at Penticton. Presenting evidence for the company were: R.H. "Dick" Laidman, president, Peter Dyck, secretary-treasurer, and Dan McIvor, accountant.
Kamloops city council received notice, in March 1949, that L and M Air Service's application was approved. By early July, Dan McIvor met with an alderman to discuss the temporary float for Riverside Park that would be needed.
A couple of pre-inaugural flights took place, one, Monday - 19 September 1949, carried newspaper reporters of the 4 cities, while the second, Friday – 23 September, carried Kamloops Mayor W.J. Moffatt and the mayors of Vernon, Kelowna and Penticton.
Piloting the 6-passenger twin-engine Beechcraft was Dan McIvor, the company's operations manager, while Hugh Mann, a managing director, was co-pilot. Peter Dyck was the company's spare pilot.
On the first scheduled flight, 26 September, Mrs. R. Heron, a Kamloops travel agent, was a passenger and returned to Kamloops on the return flight. Mr. Charles J. Dowell, of Vernon, was the first passenger, from the Okanagan, to arrive in Kamloops, that first day.
Air service was daily (except Sunday), leaving Kamloops at 07:00 hrs. and arriving at Penticton at 08:55 hrs. Northbound, the aircraft left Penticton at 12:05 hrs. with arrival at Kamloops' Riverside Park, at 14:15 hrs. Landings were made at Vernon, at the pier near the "Sutherland Arms", at Okanagan Landing, at Kelowna's "City Park", and at the Yacht Club at Penticton.
During the winter land aircraft would be used, possibly an Anson twin.
By the beginning of November 1949, it was reported by Kamloops alderman George Greer that L and m Air Service was using Fulton Field Airport (Kamloops) for winter operation to the Okanagan.
Due to interruptions of mail service by railway (Fraser Canyon slides) municipal councils were joining together to request the Post Office to give L and M Air Service a contract to fly mail, in December 1949.
How long L and M Air Service operated this Okanagan Valley service is unknown, but Canadian Pacific Air Lines began air service from Vancouver to Kamloops and the Cariboo and Prince George in April 1950.
Source: Vernon News and Kamloops Sentinel.
R.H. "Dick" Laidman, Dan McIvor and Hugh Mann all spent part of their flying careers with Central British Columbia Airways and Pacific Western Airlines.
Research: Neil Burton – 16 September 2019.


---
Sep 6, 2019 A 2017 News Article about a B707 and YEG
Click here for the article: https://www.edmontonprimetimes.com/article/remnants-of-aviation-tragedy-uncovered-20171228
---
Sep 5, 2019 PWA B737 Charter Flight to Calgary
Captain Fred Traupe and F/O Barrett Thornton picked up the singer Tony Orlando and Dawn ~Sep 1978 on a charter — Eugene, Oregon to Calgary.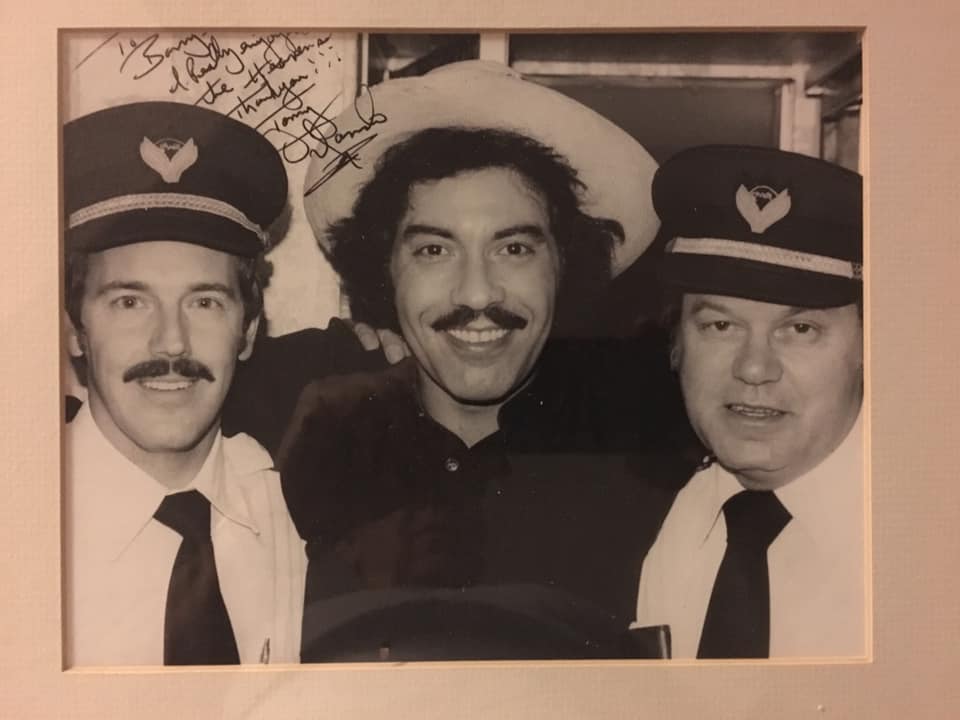 ---
July 15, 2019 50 Years ago - BC Airlines- 1969
B.C. Air Lines, a division of C.A.E. Industries was the largest airline operating entirely within B.C. Its marketing zone was: "Pacific Thunderbird" -- and added routes of -- "Okanagan Thunderbird" – Vancouver, Penticton, Kelowna, Kamloops; "Kootenay Thunderbird" – Vancouver, Penticton or Kelowna, Castlegar, Cranbrook; "Cariboo Thunderbird" – Kamloops, Williams Lake, Quesnel, Prince George; and "Skeena Thunderbird" – Terrace, Smithers, Prince George.
Air service was with the Nord 262 Vistaliner.
From advertising, it appears service was to begin April 30, 1969.
Northwest Industries Limited, of Edmonton, Alberta, of which B.C. Airlines was a subsidiary, was purchased by CAE in 1962.
Pacific Western Airlines negotiated the purchase of B.C. Airlines in July 1970, with expected closure of the deal in mid-August.
President of Pacific Western Airlines was R.H. "Dick" Laidman.
Schedules for P.W.A., including the equipment of B.C. Airlines, were expected to become effective September 15th.
Neil Burton/15 July 2019.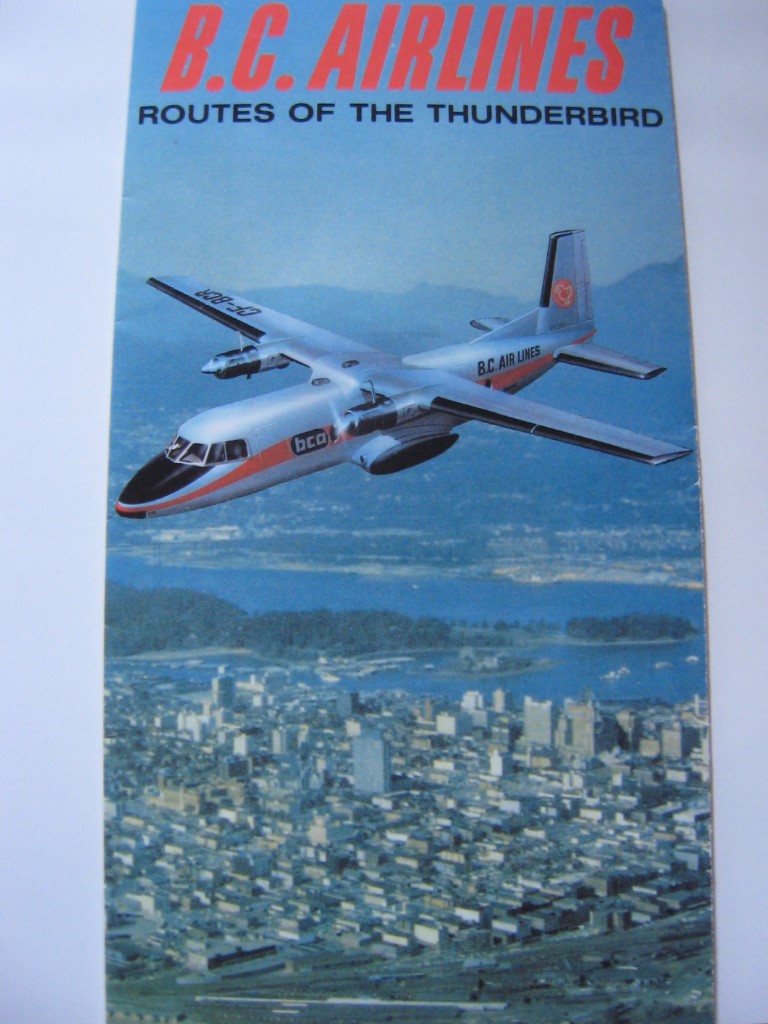 ---
July 7, 2019 C-GTAR Aer Lingus 737 (Photo Credit Anthony Hickey)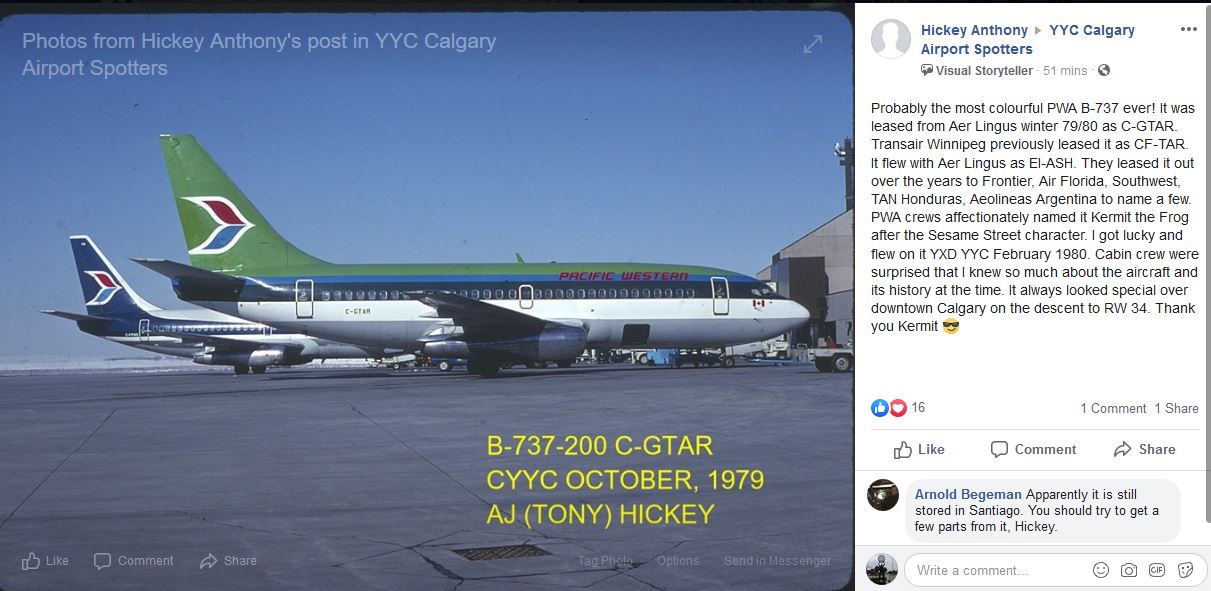 July 7, 2019 Hercules ReUnion YXD - 2019 Edition.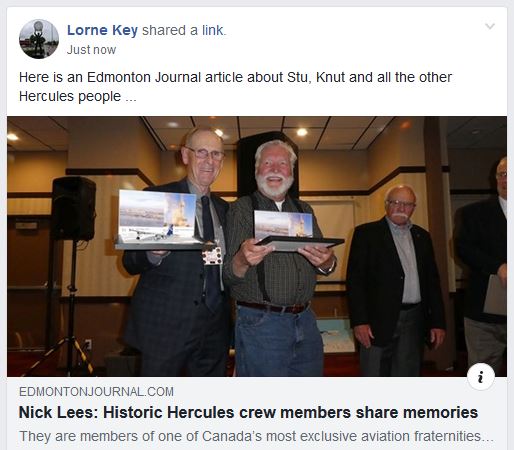 Click here for the news article.
---
July 4, 2019 Avro Anson
Rose Fleet submitted this picture of a rare PWA Avro Anson reg CF-PAC. The details of this aircraft were submitted by Robbie Stewart: The Avro Anson was a re-purposed ex-WW 2 Aircraft that was in plentiful supply post war and many found airline applications for a reasonable cost.
My Father, Captain Kees Fransbergen flew the Anson during the war, and did the training when the aircraft joined the Associated Airways and later PWA fleet. A good family friend and ex-Pilot for PWA ( Capt. Hank Fransen , later Martinair Holland) had a remarkable incident flying the Anson onto a small northern strip where the wingtip on one side was sheared off... the airframe mechanics flew up there and simply cut off the wingtip on the other side and the plane was flown back to Edmonton like that!


---
June 7, 2019 - Alberta Aviation Museum Update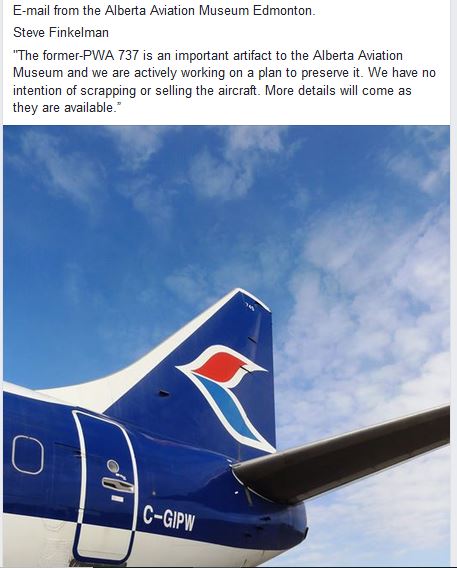 ---
June 5, 2019 - Boeing 767 Sticker (sent by M. Armstrong)


---
June 5, 2019 Boeing 737-275 A/C 746 C-GJPW
Turn Around at The Pas Manitoba. Acquired 05/09/1979


---
May 12, 2019 Capt. Arnie Young taking the photo of our Electra at Cambridge Bay winter ´74 .. temperature I remember was -51c (photo credit B. Thornton)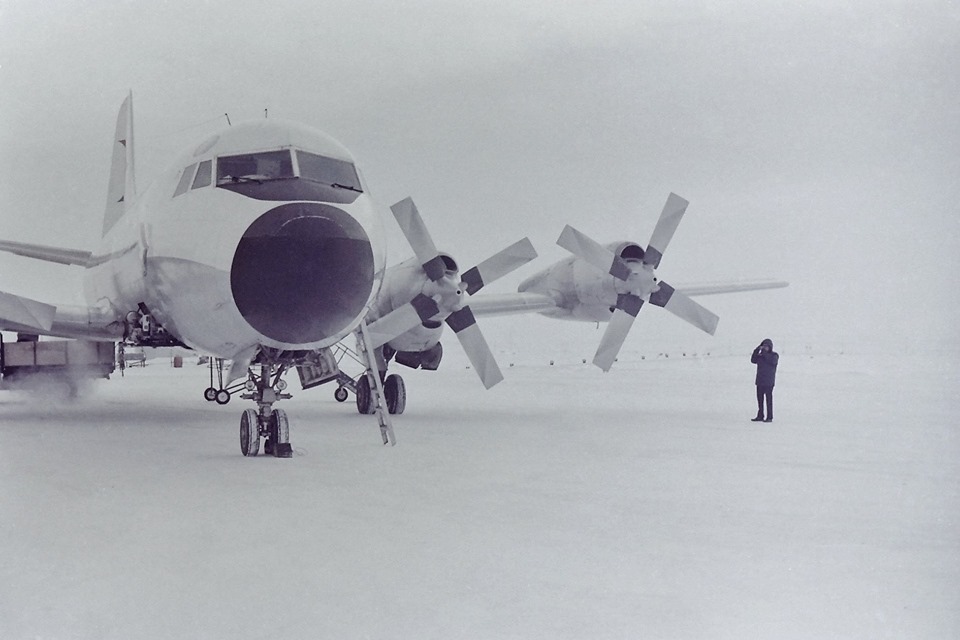 ---
1973 Electra L-188 Onload Fort Simpson, NWT (Photo Credit B. Thornton)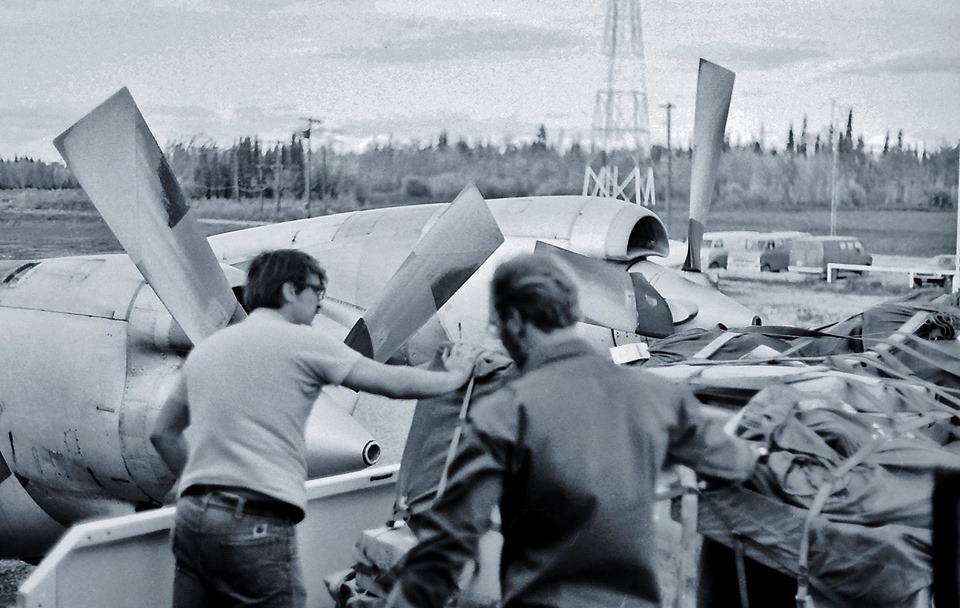 ---
April 24, 2019 - Canadian Fishing Charter Vacations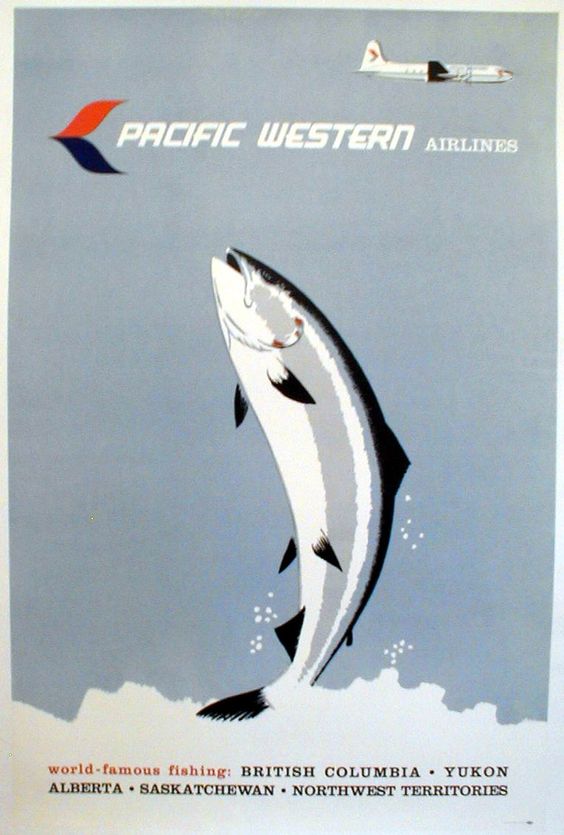 ---
April 3, 2019 From Airlines of the Past
March 29, 2019 - Wally Sutherland - Resolute
In Sep 1972, Wally Sutherland, a mainline employee based in YRB suffered a fatal stroke. It was a sad time for the airline. Several staff shuffles ensued. That fall, new staff including Jim Wyse, Jim Dobell, Martin Wilkins, and myself were sent to work the mainline scheduled service.
Today, I received a request from Wes Sutherland, Wally's son, who would like any info or pictures of his Dad. Wes was 7 Years old at that time.
From Wes: Hello. After years of looking, I finally found my late father's name in the PWA employees memorial directory.
Would love to chat with anyone who may have worked with him.
Is there a central point of access for information that you can be direct me to or someone who may know?
Many thanks.
Sincerely, Wes Sutherland skeena@shaw.ca or the Webmaste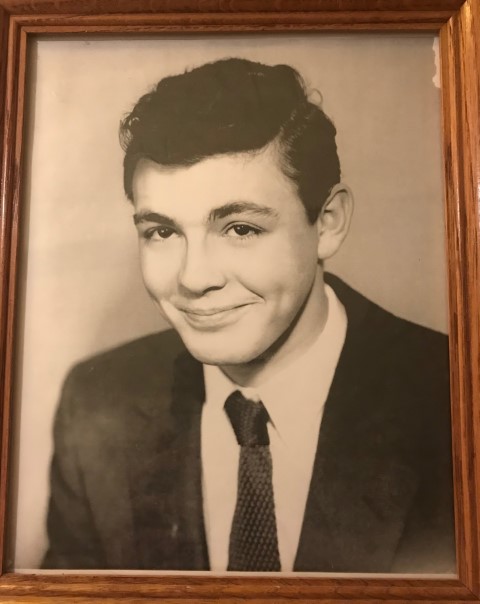 ---
March 25, 2019 Aluminum model of PWA Lockheed L-188 Electra.
Anthony Hickey is an aviation enthusiast, expert photographer and a long time employee at Calgary Airport. He has obtained an aluminum cast model of a custom made L-188. Anthony then polished and hand painted the aircraft in a/c 183 livery. It weighs 18 pounds, length is 28 inches and wing span 26 inches. It has been a labour of love and work in progress for approx 1 year. Also a/c 183 taken at YXD by Anthony Hickey. He is very proud to share this with you.


---
Feb 3, 2019 - Hercules Reunion - June 7, 8, 9 - 2019
From the desk of Stu Russell - Please mark the dates June 7, 8, and 9th on your calendars for the PWA Hercules Reunion. This 3-day fun packed event will take place at the Edmonton Inn XDI. If you are interested in more info, please email Stu at russellsf@shaw.ca.
" The Herc Rats welcome anyone from the PWA / CDN family who was involved in the northern airports, resupply operations with the L188 Electra, B737C, B727C and the overseas operations of the 707-320C. Come join the gang at the 8th reunion and share the tall tales and cool refreshments" .


---
Jan 31, 2019 Why does the B737-200 still fly in Canada?
This video has clips of some of the former PWA B737-200 fleet. https://youtu.be/7O5WHFBmuKs
---
Jan 21, 2019 Boeing 737-200 Gravel Kit
This is Boeing testing the B737-200C gravel kit on the Hope, BC runway circa 1972. This mod was a recent addition to the 737. I believe there is a tie-in to the a/c 732. PWA took delivery of 732 in 1969. https://www.facebook.com/pilotscafe/videos/329647897586301/
---
Jan 21, 2019 A/C 746 at The Pas, MB
A newly posted B737 a/c 746 by EricG at airliners.net
https://imgproc.airliners.net/…/airliners/7/8/6/5357687.jpg …
---
Dec 28, 2018 - From the desk of Capt. Terry Champion (Ret'd) - RE: Capt Jack Johnson's Jenny
The plan for the placement the Curtis Jenny at the Museum is to move an airplane or two away, to open up a wide enough and create a prominent location. This will be done early in January when the wings will be attached and the display built. The alternative platform will not be needed so the funding target has been reduced accordingly. Including the acquisition cost and installation of the display the target is revised to $8,000.
The total donations received so far have reached $7500.00 (Dec 28/18) with a few firm pledges still to come. I am extremely happy with the progress and the results and want to offer a heartfelt thanks and gratitude to the alumni of PWA for their support. With Kind Regards, Terry Champion
(see below for display funding campaign)
---
Dec 2, 2018 - Boeing 737 Operations at Fulton Field - Kamloops Airport
A historical document created by our Neil Burton on B737 operations at YKA
---
Nov 5, 2018 - Boeing 767-200 Aircraft and Boeing 737. (credit Chris E.)
A unique and rare photo of both Boeing 767-200's at the gate in Vancouver, plus a Boeing 767 in Calgary and a 737 on final. Great pictures.
---
---
See the Archives Page for older articles